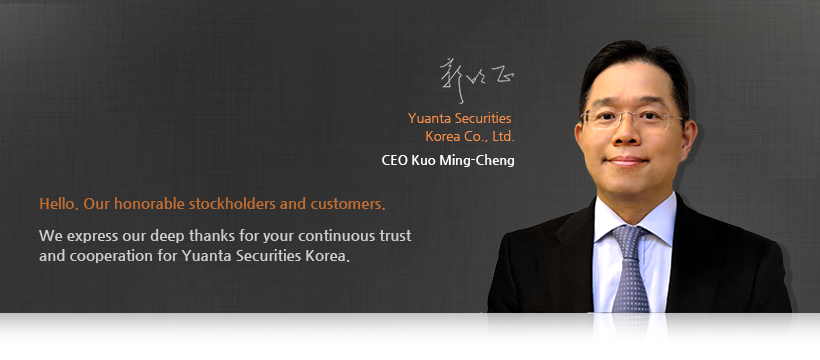 Since founded in 1962, Yuanta Securities Korea has led the change of domestic financial market and contributed to the development of capital market and has grown with our customers. In June 2014, we became a member of Yuanta Financial Holdings Group, the excellent financial expert group of Taipei, which opened a new history. We at Yuanta Securities Korea now have strengthened a strong foundation to grow as a security corporation who knows the financial market of great China region beyond domestic financial market and further the best financial company in Asia.
Yuanta Securities Korea will do the best to provide the happiness of a higher level to our customers with a vision, 'the No.1 financial service expert in Asia who realizes the financial goal of customers'. Recently, the financial market in Korea has faced with the change of environment such as ageing and low interest, and accordingly, the financial consumers are focusing on the financial products equipped with stability and profitability.
In the change of such environment, we at Yuanta Securities Korea promise to find optimal solutions in domestic/overseas financial market and provide the specialized investment products and various investment opportunities. In particular, we are proud of strong network in great China region and abundant experiences that Yuanta Securities Korea has, as our own differentiated competitiveness.
Yuanta Securities Korea has capabilities and potential energy that enables to change the crisis with opportunity. To respond to the strong change of domestic and overseas financial environment, we will firmly establish the company's status in the industry based on excellent human resources, differentiated financial products and thorough risk management. In addition, we will always be with you as a financial company that grows with customers; that is trusted by stockholders and customers through transparent management; and that discharges social responsibility.
All of our employees and executives are engraving the absolute truth 'put the value of stockholders and customers first' in our mind. We hope to be your true partner who will be always accompanied with you for your happiness in the future. We wish you and your family to be healthy and happy.
Thank you.